Introducing Portable Pan Mixer to produce better quality Concrete
09-12-2013
You may often wonder how we consistently produce good quality precast concrete products. We would like to let you in on the secret. The secret lies in how the concrete is mixed. We use a special PAN mixer which allows us to produce well mixed small batches of concrete while using minimum water. The PAN mixer has been developed by us in-house. We encourage you to watch the video below to learn more.
Now you can also produce good quality concrete by procuring the PAN mixer as it is

now available for commercial sale

.
SPECIFICATION
Maximum Batch Size - 0.167 cubic-meter
Drum Internal Diameter - 995 mm
Drum Height - 415 mm
Overall Height - 1300 mm
Motor Type- 3-Phase
Motor H.P. - 7.5
Motor RPM - 1440
Mixing Blade RPM - 35
Why Use Of Steel Crash Barriers On Indian Highways Is Bad And What Is The Best Solution?
01-03-2014
Guard Rails also called galvanized steel sheet crash barriers are an important requirement for national and state highways as they help to prevent hazards like vehicles slipping / entering in footpath /pedestrian zones or slipping into ditches/gorges along the highways.This method has been effectively used in developed countries and copied by India. However, the method has not yielded the desired outcome because of theft of crash barriers. A majority of people make their living by stealing these guard rails as they are made of steel and have high resale value. Seldom are they replaced due to paucity of funds and elaborate procedure involved in doing so.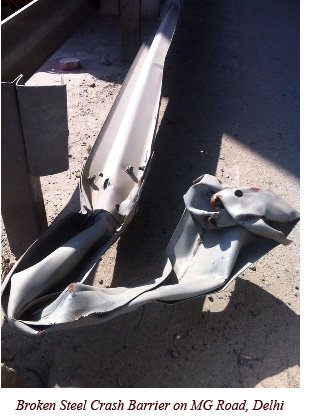 We propose the use of Precast RCC Jersey Barriers as a better solution in the Indian context.These Precast RCC Jersey Barriers offer many advantages:
They are strong, heavy and more durable
They are theft free as there is not much resale value
They are a flexible solution in case road width or course is to be altered in future
They also reduce project time as the precast RCC jersey barriers are available ready or can be planned/manufactured simultaneously while road construction is in progress
NHAI will be well served by taking notice and exploring this alternative
Lending a Helping Hand to Swacch Bharat Mission
11-10-2014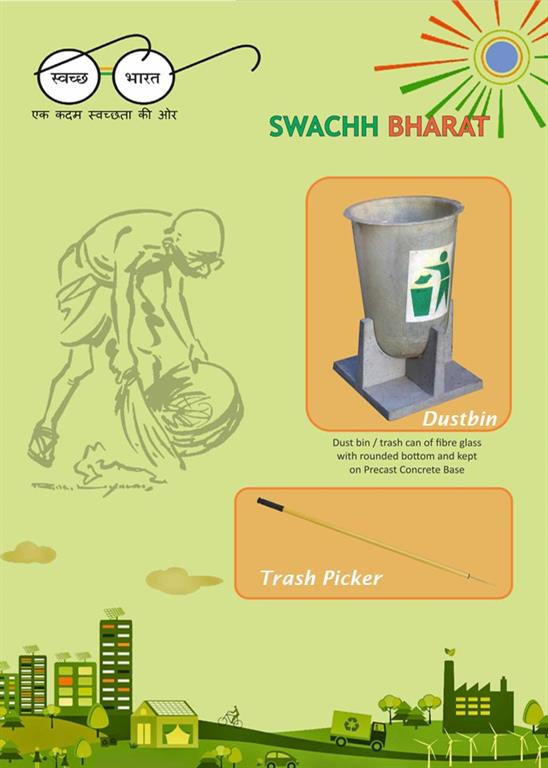 Dear Business Partner: Everyone is doing their bit to clean India. We are doing ours by introducing two innovative products that we believe India needs to keep itself clean.
Dustbin - After years of thinking about this subject and trying various alternatives, we have narrowed down on this concept of a dustbin consisting of an easy-to-empty fiberglass bin supported on a precast concrete base. This concept is unique because the fiberglass bin base has a hemispherical shape to discourage theft (the bin is not self-standing without the precast base). Moreover both fiberglass bin and precast concrete base have low resale value.
Trash picker - We all can do our part in keeping India clean by picking trash around us and disposing it off in dustbins. Hopefully our actions will get imitated by others and/or make people guilty about throwing trash where it shouldn't be thrown. Now you can easily do so by using our trash picker. So order yours by calling me at the number below.
Project Spotlight: Successfully bird proofed a boutique hotel
10-12-2014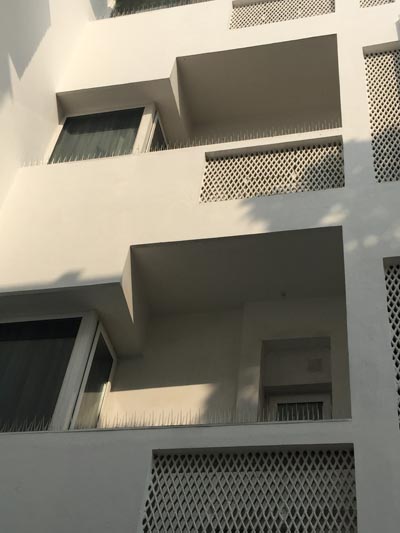 PROBLEM:A boutique hotel in New Friends Colony, New Delhi was facing a serious bird problem. When we visited the site the birds were sitting on many areas and the place was littered with bird droppings. It was a housekeeping nightmare for the management. SOLUTION: We supplied and installed our poly-carbonate bird spikes on the problem areas. The management can now breathe a sigh of relief.
New Service Offering: Now get your logo or any other writeup or graphic customized on any product
29-12-2014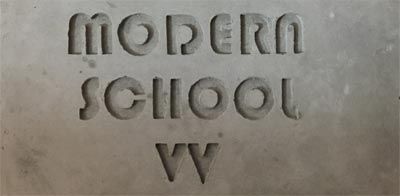 Your brand is the most important image of your business. We can now help you strengthen your brand awareness by recreating your logo or graphic on concrete products you procure from us.
The process is simple. You send us a high resolution, to-scale image of your logo or graphic. We create a stencil of your logo which we incorporate in the product at the time of casting. In the end you get your logo prominently displayed on our products for years to come.
Introducing a stronger precast boundary wall
10-12-2014
We have added a larger cross-section pole to our precast boundary wall offering for applications which require higher load bearing capacity. The new pole is 200mm x 200 mm in cross-section and comes in heights of 3 meter or 2.4 meters. Along with a suitably designed in-situ foundation the new pole will allow the precast boundary wall to carry earth loads effectively. On your next boundary wall project, if you have a retaining wall requirement think about specifying the new pole along with our 70 mm thick panels.
Bird Spikes, Now Available With Pre-Applied Glue With Removable Tape, For Do-It-Yourself Applications
10-12-2014
We listened to you and have now made Bird spikes easy to install by use of a double side 3M tape.
One side of the 3M tape is pre-attached to the base of the spike. You have to peal off the paper on the other side and press the spike down on the desired location.
Introducing, First Time In India, A Concrete Bollard With Solar Lighting
10-12-2014
Add some accent to your driveways and landscaping areas by using KK solar bollard lights. The solar bollard light body is made from highly durable reinforced cement concrete. It incorporates 9 led lights each capable of delivering 1/2 watt of power. The led lights are powered by a solar power system consisting of a solar panel and battery. The solar power system has a dusk-to-dawn feature by which the light will automatically come on in the evening and will stay lit till early morning.
Launching a refreshed range of planters/flower pots
10-12-2014
Now available plant containers/flower pots in several different shapes and sizes. Get rid of boring antiquated designs and use these containers on your next project to add some excitement. Every project is different, which is why we can customize the colours to match the overarching theme. These containers are manufactured in factory controlled settings with M-30 grade concrete. In layman terms it means, the containers are really high quality and will last a long time. Use our containers and see the difference.