Large sized U drains
LARGE SIZE TRENCHES FOR STORM WATER DRAINAGE & CABLE TRENCH APPLICATIONS
India is still in the old era of using under-ground storm water drain. However, due to immense technical issues related to performance, maintenance and service of this orthodox system, we have to switch over to surface drain concept using U drains
Our precast concrete U drains allow for speedier construction of drains with minimum site work. We manufacture high strength concrete U shaped drains. These drains come in the size 600 mm x600 mm. Our products are manufactured in stringent factory controlled conditions that ensure highest quality. Besides storm water drainage system, these types of drains are also used in other applications like cable trenches.
INSTALLATION
The drain is placed on a compacted base. The provided groove between 2 adjacent drains is filled with mortar. PCC is filled in a sloping manner for storm water drainage application
Crash Barrier Solutions
SAFETY IS NOT A CHOICE BUT A PRE-CONDITION
IN THIS ISSUE WE WOULD LIKE TO FOCUS ON OUR CRASH BARRIER SOLUTIONS
We have two types of crash barriers for different applications
Jersey barrier cum fence
One foot diameter cylindrical bollard
Introducing yet another newly developed concrete product named as Jersey Barrier Cum Fence which integrates two products in one. This serves as a substitute for Steel Fencing/ Jersey barrier/ Railings/ W-beam guards on highways & other roads . This combination of jersey barrier with fencing, of height 2100 mm, details of which are shown in picture attached, is recommended for using on central verge of roads or footpaths to prevent pedestrians from crossing the road from one side to other. It also helps in preventing accidents by preventing fast moving vehicles from crossing into the road on the other side. Also this does not require any civil work as can be just placed on site.
ONE FOOT DIAMETER CYLINDRICAL BOLLARD
For protecting buildings, etc. we recommend our 1ft. diameter cylinderical bollards. Bollards are used to segregate road traffic such as preventing cars from entering pedestrian areas. We have introduced these new 1 feet diameter cylinderical bollards which offer even higher protection as compared to the earlier ones traditionally used.
Some of the salient features of our crash barriers which make them unique are
Higher strength
Much cheaper than an iron/steel fence of same height
Theft free because of nil scrap value
Maintenance free
Can be affixed with retro reflective sticker for shining in night
We request you to make this product as standard wherever fencing/ railing are to be provided so that human lives are saved, expenditure is reduced & beauty is enhanced.
Get in touch today for pricing and specifications.
New Boundary Wall Panel of 2 ft height
As we crack into March we find ourselves better equipped with facing Covid-19. Hope seems to emerge with the vaccination process being rolled out. Our environment continues to rapidly evolve creating a larger need for innovation.
Always innovating and finding ways to increase productivity, KK Manhole and Gratings Co Pvt Ltd has been the home of innovative and quality solutions for the construction industry since 1984.
Introducing our NEW Boundary Wall Panel with Texture on Both Sides!
We have recently added to our prefabricated boundary wall options by providing two feet panels with textured finish on both sides. One face of the panel carries our traditional brick pattern while the second face of the panel has a chequered finish. Also we can incorporate your logo on the wall. Additionally, the pole and panel combination can also be used for constructing low cost single storey housing.
Born out of response from customer demands the KK wall panels are tested not to deteriorate with time and are low maintenance
Get in touch today for your pricing and specifications.
New Product Launch Fence 2.0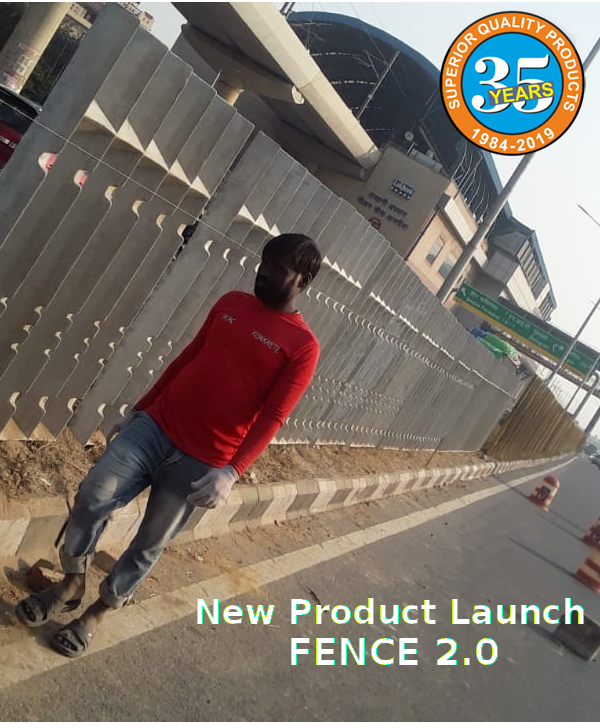 Fence 2.0 is a new fencing system for highways and roads that provides an excellent barrier to deter human beings and animals from crossing over. Unlike iron fence, it is cheaper, theft proof, and maintenance proof. In addition, it is possible to affix reflective tape on this fence for night time visibility and it also reduces glare from headlights of oncoming vehicles in the adjacent lane of traffic.

Boundary wall now available with texture on both sides
ATTENTION!!
We have recently added to our prefabricated boundary wall options by providing a panel with textured finish on both sides. Shown in the graphic are the available textured finishes on each side.
As can be seen, first face of the panel carries our traditional brick pattern while the second face of the panel has a checker finish.
Looking forward to helping you out in your next compound wall or boundary wall project.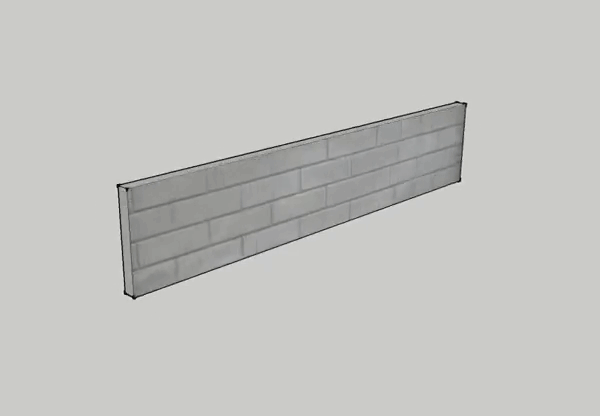 Two exciting new developments
We would like to share with you two exciting developments.
We have launched a brand new brochure which you can download by clicking on the picture.

We recently had the honor of presenting to senior officers of PWD. You may catch a glimpse of this presentation by clicking on the relevant picture below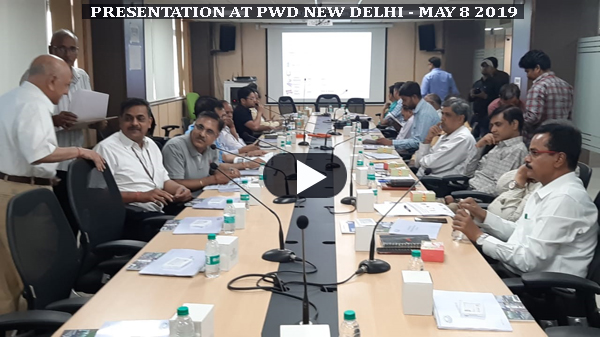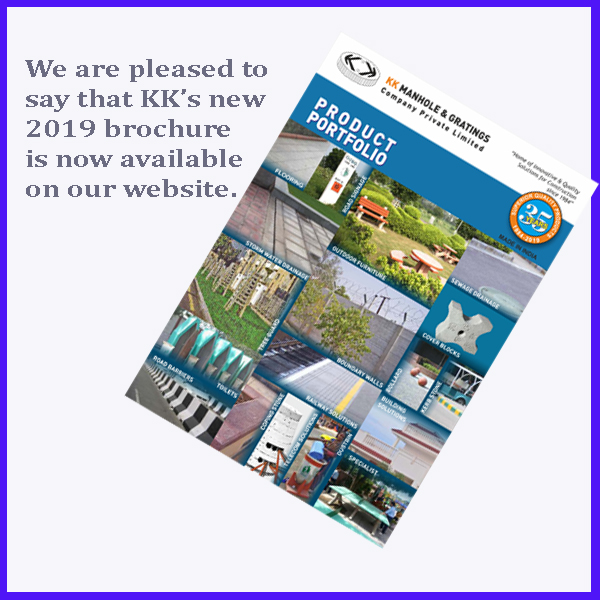 New Heavy Duty Cover Block for Piling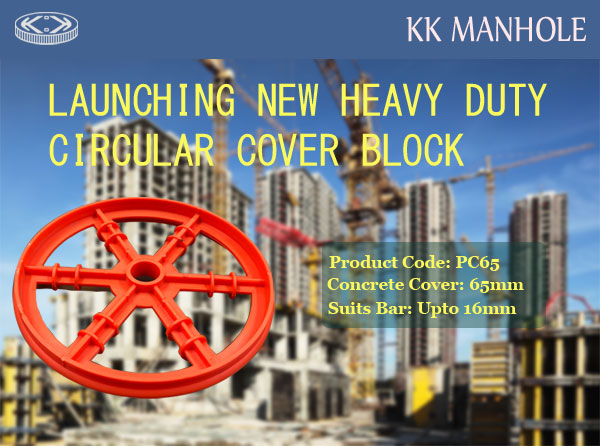 APPLICATION
Attach spacer to the stirrup bars so that it is aligned vertically when in place.
FEATURES OF OUR
HEAVY DUTY CIRCULAR SPACER
Designed for use when you are lowering cages into pile holes. They easily slide on the rebar prior to tying the cage and roll with the cage keeping it perfectly spaced as it is lowered into the ground.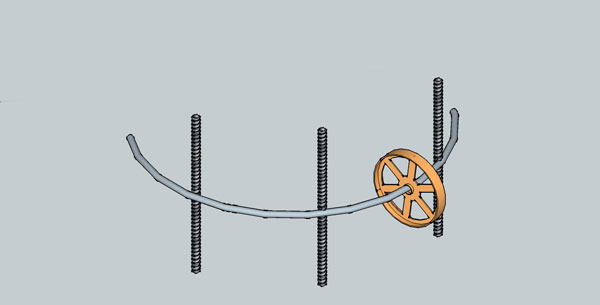 Our RCC Konkrete Tank is making some ripples
KK Presents Precast Lintel Beams

Attention!

Do you spend too much time on building lintel beams for doors and windows. Well now you can save time and improve your construction quality by specifying precast lintel beams.



| Sizes Available (LxWxH) | Brick Load |
| --- | --- |
| 1200x150x112.5 | 600 mm |
| 1400x150x112.5 | 700 mm |
| 1600x150x112.5 | 800 mm |
| 1800x150x112.5 | 900 mm |
| 2000x150x112.5 | 1000 mm |
| 2400x250x112.5 | 1200 mm |



CONTACT US NOW TO LEARN HOW YOU CAN USE OUR LINTEL BEAMS!
Sharing some recent pics of our dustbin